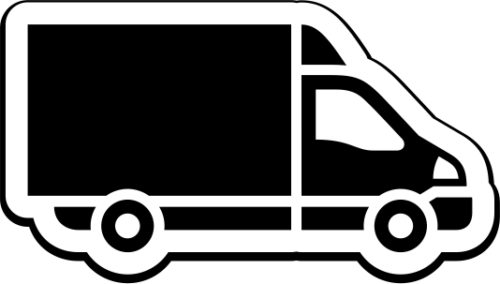 POWER® EXPRESS DELIVERY: 2-5 Days*
FREE EXPRESS DELIVERY service is available for ALL modular Power® sheds, summerhouses and accessories. Currently it's just *2-5 working days for fast delivery to most parts of Britain AND Northern Ireland, however some remote areas may take a bit longer. Please contact us for a quote if you need a next-day, or Saturday delivery. You can find some practical information about express delivery here.
Description
POWER® HYBRID OVERLAP Pent Shed
The Power® Hybrid Overlap Shed gives all the benefits of tongued an groove, combined with the price of an overlap shed. This British-made shed is made using high grade Scandinavian timber, and unlike most manufacturers, this overlap pent shed features a premier T&G floor, roof and door, a 10-year guarantee! and FAST, FREE DELIVERY.
This Power® Hybrid Overlap Shed comes with non-tear roofing felt, extra high wall height, pre-fitted toughened glass windows (or windowless if you prefer), however the most appealing feature of this shed is the wide range of door and window layouts available… allowing you to create the perfect shed for your needs.
This popular shed is available in 27x sizes & hundreds of combinations, with a choice of single or double door… YOU HAVE THE POWER!
---
Features
10-YEAR GUARANTEE
27x SIZES AVAILABLE 
FREE, FAST DELIVERY & FREE RETURNS*
HYBRID Overlap & T&G Shed
10mm thick wall cladding (20mm thick where overlapped)
40mm overlap to minimise movement
Premier 12mm T&G ROOF, FLOOR, & DOOR
Tall 187cm high internal eaves gives plenty headroom inside
Easy assembly c/w fastenings, simple instructions, & instructional videos are available too
Pre-fitted toughened safety glass windows, or 'windowless' option available at no additional charge
3x zinc galvanized T-hinges and diagonal framing on doors for extra strength and longevity
High performance roofing felt with advanced 'polyester' backing ensuring it lasts longer and doesn't tear easily
Pre-fitted internal lock with 1x key (no padlock required)
Advanced exterior wood preservative with wax additive meaning you don't have to re-treat your shed for at least a year
---
Quality Construction
Hybrid overlap pent sheds are constructed using high quality, slow growing Scandinavian Pine with 10mm boarding on the walls (doubling to 20mm on the 40mm overlap), 12mm T&G roof, floor AND door. Please note that NO chipboard, OSB or low-grade timber is used in the construction of this building.
Power® Sheds supplied pre-treated with an eco-friendly 1-year preservative basecoat (inside & outside) at no extra charge, so unlike other brands, you won't have to paint it straight away.
Plenty of framing (28x28mm) is used internally, and it's doubled at key points throughout the shed and corners giving a combined thickness of 56x28mm for extra strength. For security, a rim-lock c/w mortice key is fitted internally, so there's need need to buy a padlock. High quality, non-tear polyester backed roofing felt is supplied to keep the roof watertight.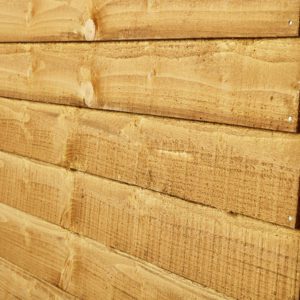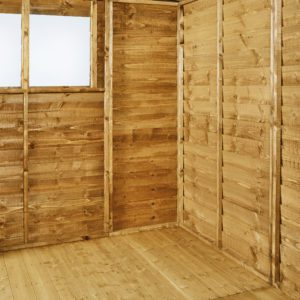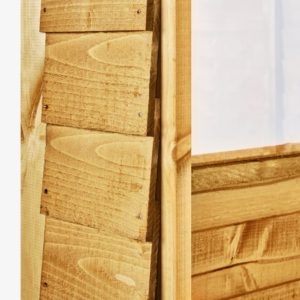 ---
Modular Flexibility
Power® buildings have a modular design, so whether you go for an apex shed, a pent summerhouse, or a potting shed, the panels can be positioned anywhere you like, enabling you to design the perfect door/wall/window setup for you. Just choose whether you want to have it with windows or windowless, and with a single or double door, then you can interchange all panels.
Some examples of different door positions are shown below on an apex shed, however the same variations apply on overlap pent sheds.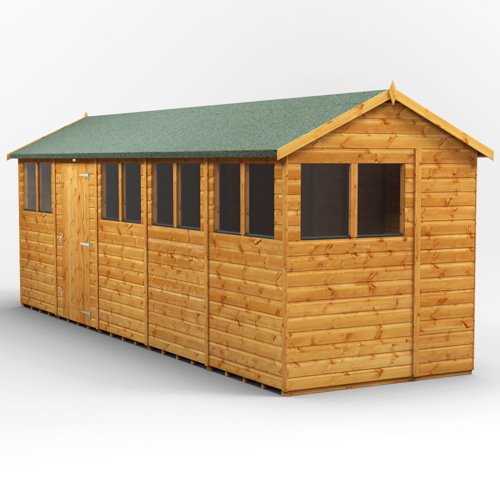 ---
Preservative
This overlap pent shed is supplied pre-treated with a long-lasting, brown (golden oak), non-toxic preservative base coat. Each panel is treated inside and out, and includes the end grain and cut-outs. This is a premium waxed preservative, allowing you to use the shed straight away. There is no need to paint for the first year, but you can change the colour or over-paint at any time if you prefer.
---
Doors, Locking System & Windows
The doors on this overlap pent shed are great… they are fitted with heavy framing complete with diagonal bracing to stop sagging, they can be hinged on the left or right side, they are fitted internally with a rim-lock c/w mortice key for convenience, and have an easy grab handle.
Non-rusting, zinc galvanised t-hinges, and two turn-buttons are supplied as standard on either a 750mm (30″) wide single door, or a 1034mm (40″) wide double door.
Windows are made from strong, secure toughened safety glass, and they are pre-fitted so there's no need to handle glass at all. Alternatively, this overlap pent shed can be supplied 'windowless' if you prefer.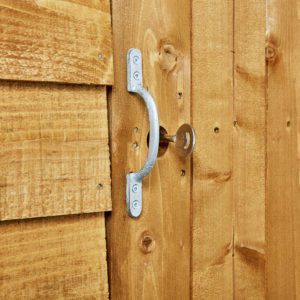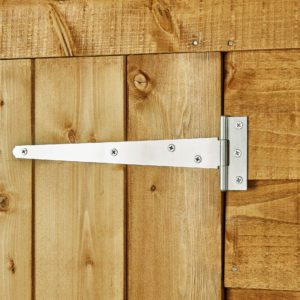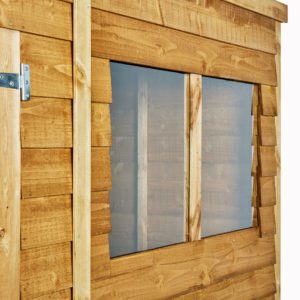 ---
Extras
This overlap pent shed is supplied with integral under-floor bearers, designed to go onto an existing solid base made from concrete, slabs, or decking, however if you don't have anything in place, you can add a Power® Base Kit option. They are pressure-treated, and are fitted below the shed to create a solid base for your shed to sit on, whilst allowing ventilation below your building.
For extra storage, you can choose timber wall shelf kits, and for convenience you can purchase additional keys.
Even though this is an overlap pent shed, it's considerably better quality than most other manufacturers' budget sheds. This model has a long lifespan, and it comes with a manufacturers' 10-Year Warranty. We recommend that you assemble the building on a solid, free-draining base, with at least 60cm free space all around for maintenance and to avoid splash back.
You should treat all exposed sections with a high quality preservative every year in accordance with the manufacturers' instructions. Please ensure that regular general maintenance is carried out on all moving parts, and inspect the roofing felt regularly (especially before and after storms), and replace when required.
All products are delivered sectional/flat-packed to kerbside unless stated otherwise. Information shown above has been supplied by the manufacturer, and is as accurate as possible (errors and omissions excepted), however they are intended only as a guide.
*The free delivery service covers most of mainland Scotland, England & Wales, however delivery to Northern Ireland, the Republic of Ireland, offshore islands, and remote rural areas will be subject to an additional charge. Unopened pallets can be uplifted free of charge if you change your mind.