Description
PROTEK STABLE COAT WATER REPELLENT WOOD STAIN PRESERVATIVE 5-LITRE
Perfect for Pressure-treated (Tanalised®) Timber, Protek Stable coat water-repellent wood stain is ideal for all animal housing including, dog kennels, hen houses, rabbit hutches etc. however it is also one of the best products on the market for garden sheds, workshops, garages, in fact any garden building. It is available in 7x traditional colours, Golden Brown, Golden Oak, Dark Brown, Pale Green, Light Green, Black, and a highly water-repellent Clear. It is recommended that if you have a pressure treated stable that you apply a couple of quick thin coats to give your stables ultra-high water repellency. It will also help make your stables look cleaner and newer for longer.
Protek Stable Coat is a water-based micro-porous acrylic coating that incorporates a ultra-high performance water repellency additive that uses nanotechnology to deliver an extreme hydrophobic layer of protection. Protek Stable Coat offers excellent long-term protection for any timber building, and is also resistant to mould and fungal attack. Basically, once two thin layers have been applied, the rain will just bounce off! … and it's plant, pet & child friendly too!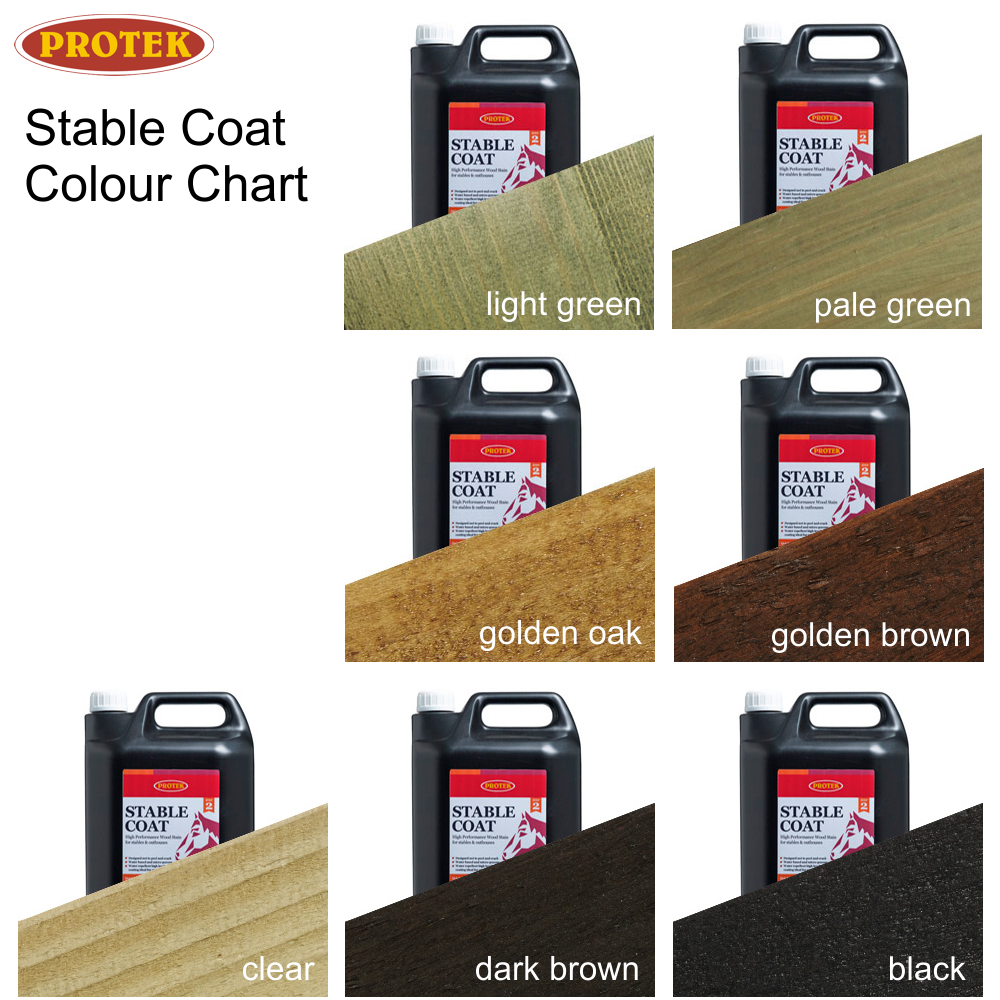 Features:
Protective Coating
Ideal for Pressure-treated (Tanalised®) Timber,
Easy to Apply + Low Odour
Pet + Plant Friendly
Multi Purpose
High Water Repellency
Mould Resistant
Easy Water Clean Up
Light, Fast, Quick Drying
Great Coverage: A 5-litre tub will cover 40-60m² (400-600ft²) per coat
Note: This paint/preservative is ordered & mixed specially, however we are happy for you to return any unused paint/preservative if surplus to requirements, although a re-stocking charge of £3.99 per tin will apply. We are unable to refund return carriage costs in these circumstances, therefore please ensure that you order the appropriate quantity for your requirements. Unfortunately we cannot accept unauthorised returns.