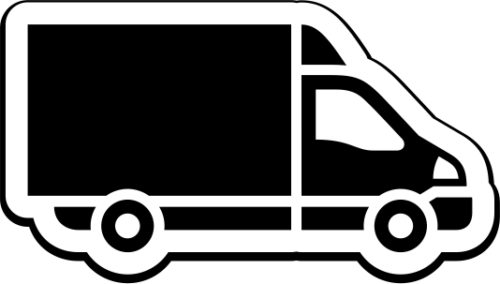 HALLS GREENHOUSES DELIVERY: 4-6 Weeks*
*The current delivery time for most Halls Greenhouses is approximately 4-6 weeks.
Halls Popular 68 Greenhouse (6x8)
---

SKU: POP68P
Halls Popular 68 (6x8) Aluminium Greenhouse is the most popular size of greenhouse in the UK today. Each model comes with a choice of plain aluminium or powder-coated forest green framing, and a variety of glazing options - Horticultural Glass, Twin-Wall Polycarbonate, or Toughened Glass.
Description
Halls Popular 68 (6×8) Greenhouse
Halls Popular 68 (6×8) Aluminium Greenhouse is the UK's most popular greenhouse. It is ideal for any gardener, whether you're an absolute beginner, enthusiastic amateur or professional. Each model comes with a choice of plain aluminium (silver) or powder-coated forest green framing, and a variety of glazing options – Horticultural Glass, Twin-Wall Polycarbonate, or Toughened Glass. Integral gutters and smooth action sliding doors are standard and a roof vent allows constant and even ventilation. More models are also available – 6×4, 6×6, 6×8, and 6×10, and a range of accessories is available for you to customise your greenhouse.
---
Features
FREE opening roof vent
FREE guttering
High quality product
Long established UK brand
Single sliding door
Plain aluminium or green powder-coated frame
15-Year manufacturers warranty
Choice of horti-glass, toughened glass, or twin-wall polycarbonate glazing
100% maintenance-free
Easy DIY assembly using step-by-step instructions
Wide range of accessories available
---
Quality Construction
The Halls range of greenhouses are made to a high standard. They are supplied with virtually unbreakable aluminium frames available in plain aluminium or forest green finish, have integral gutters, sliding doors and roof vents, and you can choose from standard horticultural glass, toughened glass, or polycarbonate glazing. DIY installation is easy due to the straightforward step-by-step assembly instructions, however a professional assembly service is also available. The manufacturer offers a 15-Year warranty on this model.
---
Maintenance Free
Halls greenhouses are designed to be almost maintenance free. Only occasional oiling of the moving parts, and general cleaning is all that is required. The manufacturers supply this building with a 15-year warranty and guarantee that your building lasts for many years.
---
Windows & Glazing
Halls greenhouses are supplied with a choice of glazing to best suit your circumstances. Traditionally horticultural glass has been used, allowing sunlight to stream into the greenhouse for maximum light and warmth, however they are also available in toughened safety glass as well which is especially comforting if you have small children. You may prefer polycarbonate for optimum safety; virtually unbreakable, its twin wall construction retains heat and diffuses sunlight to avoid scorching your plants. This type of glazing is also more efficient at retaining heat than glass, and therefore uses less heat during the winter months. This building comes with 1x Opening Roof Vent.
---
Doors
The Halls Popular Greenhouse is supplied with a single, smooth action, sliding door. No locking system is supplied, however  provision has been made to allow a padlock to be fitted.
---
Straight-forward Assembly
These buildings are supplied in flat-pack form complete with comprehensive instructions. Installation should take less than a day, as only basic tools are required, and no professional experience is necessary.
---
Professional Assembly Option
Alternatively, we do have a friendly professional installation service if you would prefer to watch someone else do all the work! 
IMPORTANT NOTE: If you require our professional assembly service, you must purchase the optional galvanised steel greenhouse base, and be aware that we can only install it onto a flat and true concrete or slabbed site which has been prepared prior to our arrival.
---
Optional Extras
It is essential that you set your greenhouse onto firm foundations, and we have a prefabricated 5″ galvanised steel base to fit every model as an optional extra. Additional extras available for this building include staging, louvre vents etc. and are available from the Halls Accessories section. To avoid any extra delivery charges, please ensure that any accessories required are ordered at the same time as the greenhouse.
---
Specifications
Please contact us prior to purchase if you have any queries regarding the dimensions, or if you require exact sizes.
Model

Ref. No.

Frame

Size (mm)

Height (mm)

Single Door

Vents

Glazing

(Colour)

Length

Width

Eaves

Ridge

Width (mm)

(Roof)

(Walls & 

Roof)

Popular 68

SO0172

Silver

2570

1930

1240

1950

600
1
Horti Glass
Popular 68
SO0207
Silver
2570
1930
1240
1950
600
1
Polycarbonate
Popular 68
70937
Silver
2570
1930
1240
1950
600
1
Toughened
Popular 68
SO8101
Green
2570
1930
1240
1950
600
1
Horti Glass
Popular 68
SO8103
Green
2570
1930
1240
1950
600
1
Polycarbonate
Popular 68
SO8102
Green
2570
1930
1240
1950
600
1
Toughened
All products are delivered sectional/flat-packed unless stated otherwise. Information shown above has been supplied by the manufacturer, and is as accurate as possible (errors and omissions excepted), however they are intended only as a guide. *The free delivery service covers mainland UK & Northern Ireland. Delivery to all other Offshore and Scottish Islands locations will be subject to an additional charge by the manufacturer (please call for a quote).
Delivery Areas

Manufacturers Delivery Surcharge

Mainland UK

England, Wales & Scotland

FREE

Northern Ireland

BT Postcodes

Call

Offshore
Including I.O.W., Isle of Man, Eire, Scottish Islands, etc..

Please Call for Quote

Delivery lead time is normally 15 working days, and is typical for most areas (although remote areas may take up to 20 working days). Please check before ordering if delivery time is critical. All customers will be contacted 48 hours prior to delivery to provide a AM/PM delivery date.