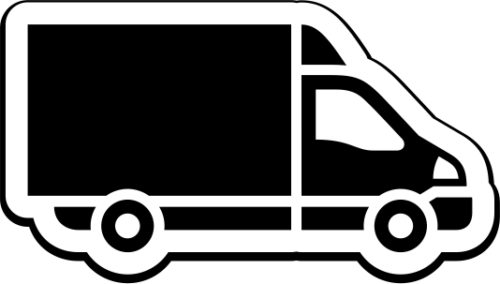 YARDMASTER™ DELIVERY: within 2 Weeks*
*For most YardMaster™ sheds, the lead time is within 2 weeks for most parts of Britain, Northern Ireland, and the Republic of Ireland, however a few buildings can take a bit longer. Please see more delivery information here.
YardMaster 8x6 Shiplap (TBSL) Metal Shed
---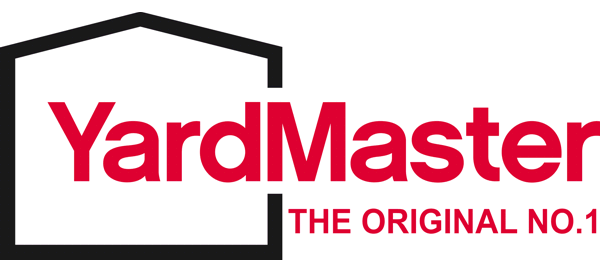 SKU: 86TBSLP
YardMaster 8x6 Shiplap TBSL is a great quality metal shed, finished in brown/taupe. YardMaster sheds are up to 25% heavier and stronger and come complete with wide double doors, rustproof steel screws, anchor kit and a 15-year warranty. NOTE: Please check the specifications below prior to ordering, as the dimension of this model may be smaller than expected.
Description
YARDMASTER 8×6 Shiplap – TBSL – Apex Steel Shed
The YardMaster 8×6 Shiplap TBSL Metal Shed is made by the No.1 metal shed manufacturer in Europe. When it comes to metal sheds, YardMaster is a name you can trust. Backed by over 30 years of high quality and performance, each product has been stringently tested to ensure an optimal service life. High-strength steel makes YardMaster sheds up to 25% heavier and stronger, as well as resistant to warping, blistering and swelling. A premium 7-layered protection against corrosion is the reason your garage will be maintenance-free, therefore you don't have to worry about painting or rust-proofing it every year. They are weather resistant, made from zinc-plated steel, finished with a baked on permanent colour for a long-lasting, maintenance-free finish, hence the manufacturers 15-year limited warranty. The YardMaster Shiplap Apex Steel Sheds are available in 4 sizes – 8×6, 10×6, 10×8 and 10×12 (all approx.), and all feature wide double sliding doors on one end, and each building is supplied complete 2x translucent skylight roof panels, rustproof steel screws, generous headroom, and an anchor kit for fixing down.
Please Note: The YardMaster Steel Shiplap Shed is now is finished in a modern hard-wearing BROWN/TAUPE colour.
---
Features
FREE delivery*
FREE 15-year warranty
FREE anchor kit
FREE translucent skylight roof panels
Hot-dipped galvanised steel
7-layer corrosion protection
Fire retardant
NO blistering, cracking, swelling or warping
New colour – Brown/Taupe
Sliding double doors with large opening
Solid heavy gauge solid galvanised steel frame
No maintenance – ever!
Straightforward assembly with manual and technical helpline
Optional galvanised steel floor support frame
FLOOR NOT INCLUDED
---
Quality Construction
The YardMaster Apex Steel Shiplap Shed is clad with the highest quality hot-dipped galvanised steel sheets, onto a strong, galvanized steel frame. All YardMaster sheds provide a safe and secure storage space, and are manufactured from fire retardant materials. They are virtually maintenance free, and come with a 15-year manufacturer's limited warranty, and won't crack or warp.
---
Maintenance
The walls have been hot-dip galvanised and painted, both internally and externally, and are finished with a clear resin bonding for a long-lasting, maintenance-free finish. The internal framing has also been hot-dip zinc galvanised, and is made from solid heavy gauge steel. The YardMaster Shiplap Shed requires no maintenance other than the occasional cleaning of the main building and oiling of moving parts, which will ensure that your building lasts for many years.
---
Doors and Locking System
The YardMaster Shed has internal sliding double doors as standard. Metal handles are designed to accept a padlock (not supplied) when both doors are closed together.
---
Straight-forward Assembly
The YardMaster Shed range of steel buildings are supplied in flat-pack form with comprehensive instructions. Assembly is simple, clean and safe, and can be completed in a few hours. A firm concrete base is recommended to make a sound job, and an anchor kit is supplied with every model. The YardMaster is predominantly a DIY product.
---
Optional Extras
This YardMaster shed does not come with a floor, however an optional support frame is available should you wish to create one. Manufactured from high strength galvanised steel, the YardMaster Floor Support Frame is highly recommended if you require an internal raised floor for your metal shed. The floor support frame is installed inside the shed (after construction) to provide a raised floor above your existing shed foundation. PLEASE NOTE: Timber is not included with the floor support frame (½" plywood or similar is recommended).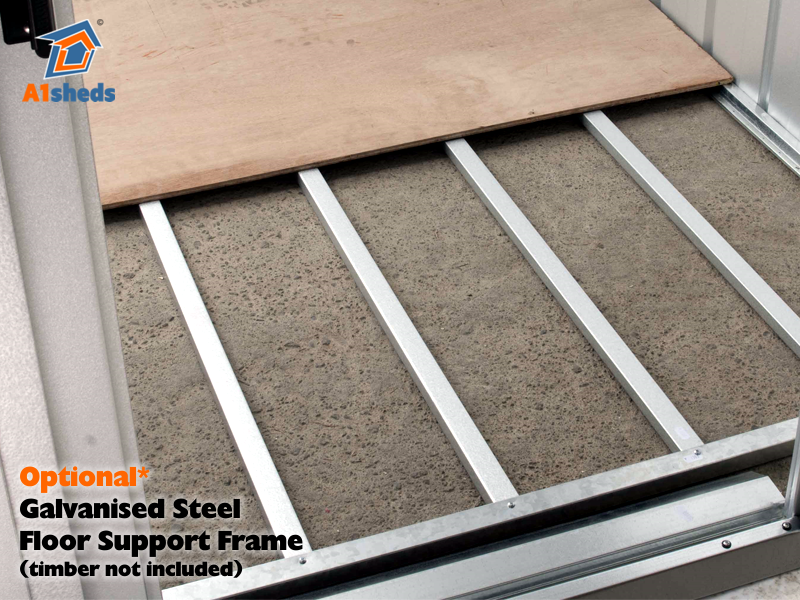 ---
Specifications
Please contact us prior to purchase if you have any queries regarding the dimensions, or if you require exact sizes. Panels and framing are made from Hot Dipped Galvanised Steel. 
IMPORTANT: Imperial sizes in the description are approximate, and are provided by the manufacturer as a guide. Please refer to the metric dimensions below for more accurate sizes, or contact us prior to purchase if you have any specific requirements. 
YardMaster
Shiplap Shed
Reference
Number
Colour
*Ext. Size (mm)
(inc. roof)
Overall Height (mm)

Footprint (mm) (size at base)

Double Door Opening (mm)

Skylight
Panels
Total
Weight
Approx. Size
Item
Finish
Width**
Depth
Ridge
Eaves

Width

Depth

Width

Height

Qty.

(kg)

8×6
86TBSL
Brown/Taupe
2430
1970
2150
1820
2260
1860
1010
1780
2
90
10×6
106TBSL
Brown/Taupe
3030
1970
2240
1820
2850
1860
1250
1780
2
119
10×8
108TBSL
Brown/Taupe
3030
2370
2240
1820
2850
2260
1250
1780
2
126
10×12
1012TBSL
Brown/Taupe
3030
3760
2240
1820
2850
3670
1250
1780
2
160
Information shown above has been supplied by the manufacturer, and is as accurate as possible (errors and omissions excepted), however it is intended only as a guide. *We recommend making your base to the external dimension shown above. **The door is positioned on the width of the shed. Please ensure that regular general maintenance is carried out on all moving parts.
---
Delivery
All products are delivered sectional/flat-packed to kerbside unless stated otherwise. Information shown above has been supplied by the manufacturer, and is as accurate as possible (errors and omissions excepted), however they are intended only as a guide. *The free delivery service covers most of mainland Scotland, England, Wales, Northern & Southern Ireland. Times shown are typical for most areas, however this is approximate and cannot be guaranteed. Outlying areas may be subject to delayed delivery and/or additional charges, please check PRIOR to ordering.
Additional information
| | |
| --- | --- |
| Weight | 90 kg |
| Dimensions | 197 × 243 × 215 cm |
| Roof Type | Apex Roof |
| Size (approx.) | 8' x 6' |
Only logged in customers who have purchased this product may leave a review.