3 Ways to Make the Most of Your Summerhouse in Winter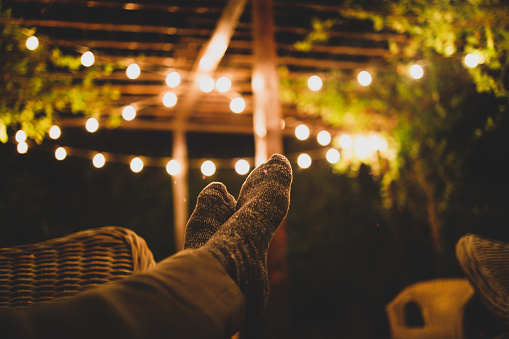 You'd be surprised at how many ways your summerhouse can come in handy in winter – and no, we don't just mean for storage! As tempting as it is to repurpose your summerhouse as a storage space once the colder months come around, it'll be so much more rewarding to use it as a hobby space or somewhere for the whole family to enjoy.
Just in case you're in need of inspiration, the A1 Sheds & Garden Buildings team have come up with some creative ideas to help you make the most of your summerhouse all year round!
Sleepovers
If you've got children, a summerhouse could be a great setting for a sleepover, even in winter. Who needs a tent or an airbed on the living room floor when you have an incredibly cosy and comfy outdoor building at your disposal? Even if the kids don't sleep out there, you can be sure it'll keep them entertained for hours on end.
Fill the space with pillows, blankets, fairy lights and snacks and you're good to go. You could even make it into a fun sleepover activity by building a fort together. All that's left to do then is switch on a film or get a couple of their favourite board games out and you'll have the perfect sleepover!
The best part? By tucking them away in the summerhouse, you'll save yourself the usual inconvenience of kids commandeering the living room or keeping you awake with their late-night giggling.
Stargazing
There's nothing better than just switching off after a long, hard day. Your summerhouse is the perfect place to do just that, especially if you use it to experience something as breathtaking and centring as stargazing.
Whether it's a romantic date-night, a fun family activity, or just a little "me time", get a telescope and set it up near an open window or folding section of the roof for the most astonishing views. You could even stay out there all night, as long as you've got plenty of hot drinks, pillows and blankets to keep you cosy.
Home bar
Many people did this during lockdown, what with real bars being off the table, and we think it's worth continuing! Unlike going out to a bar, you'd have complete control over the kind of atmosphere you want and what drinks to stock. You could even become a whizz on the cocktail shaker! And to top it all off, you don't have to worry about who's going to be designated driver.
Whether you want to chill out after work, entertain friends on the weekends, or throw a big party for New Year's Eve, your summerhouse is the ideal location. Time to get thinking of a name for your trendy new hang-out spot!
Have we inspired you to find an exciting new purpose for your summerhouse this winter? Or maybe you're even tempted to get a summerhouse specifically for this reason? Either way, A1 Sheds & Garden Buildings are here to help make your vision a reality with our excellent industry knowledge and a range of high-quality summerhouses. Contact us today to find out more about what we can do for you.
---