A Guide to Choosing the Right Garden Playhouse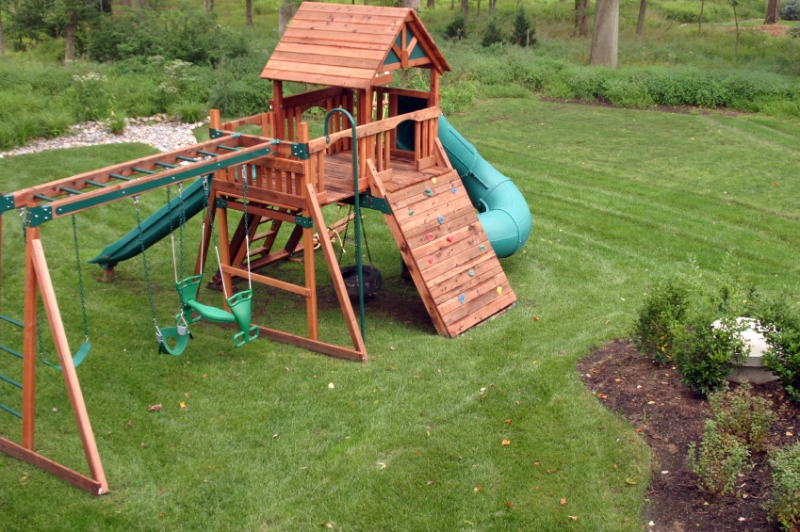 If you look at your childhood, you likely had a special place you liked to hide away in or a place you enjoyed playing with friends or siblings. Whether this was a treehouse, a garden playhouse or simply a clearing in the woods, it was your space. This is something every child can benefit from, so consider adding a playhouse to your list of things to provide your children with.
Why Children Need a Garden Playhouse
It's important for children to have a space of their own where they can escape. This gives them a chance to explore, think, and calm themselves when they're upset. However, there are a few more practical aspects as well, from the parenting side of things.
Build Responsibility
Children are responsible for their space inside the playhouse and this can help build their sense of responsibility. They have a space that is under their control, so cleaning and maintaining their playhouse is a good way to do just that. They'll need to organise their space and their belongings, as well.
Encourage Creativity
Without adult interference, children tend to explore their curiosity and explore new ideas. They can do this since the playhouse is not the kitchen and they should be permitted to test their ideas.
Less Clutter
When your child has their own space, you'll find fewer toys in the home. Instead, these items can be used in the playhouse and not in the house, leaving you with a tidier living space.
Choosing the Right Garden Playhouse
There are many lovely garden playhouses available to you, but before you purchase the grandest one, there are a few things you need to consider. While it would be lovely to install the best possible playhouse, not everyone has the space or the budget for it.
Which Material to Choose?
There are two main materials used to create playhouses, plastic and wood. Ideally, you'll opt for wood, because it is longer lasting and more aesthetically pleasing over time. A fancy pink plastic playhouse may be fun when your child is 2, but by the time she's 10, it's babyish. A wooden playhouse can be used for decades.
Keep in mind that plastic also tends to fade and weaken in the sunlight. This means your plastic house won't last nearly as long as a wooden one. In addition, plastic, while it will deteriorate, will not biodegrade, so it's not environmentally friendly.
What Size?
The size of the playhouse is also a good thing to consider. For small children, not a lot of space is required, but you may want to ensure that the house is useful for multiple years and multiple children. What size fits in the garden is also a concern and if you're tight on space, you may need to use a 2 storey playhouse to provide enough room for storing all the little things that children collect while they're on adventures.
Staying on Budget
Of course, most parents have a strict budget, so you'll need to find a playhouse that suits your child's needs, but also works for your budget.
Choosing Extras
A plain shed can be a lovely playhouse, but many children will find a tiny home to be more appealing. Depending on your budget, you can look into the following features:
Nice flooring
Bunk beds or sleeping loft
Slides and climbing features
Verandas
Windows
Electricity/lighting
Each of these things makes the garden playhouse feel more like a mini home and this can be very exciting to a small child, as well as an older one. If you select the proper options, your children can enjoy the playhouse well into their teen years, as a place to hang out and just get away from the noise and life in the family from time to time.
Finishes
Finally, you need to determine what the playhouse should look like. You can certainly leave it as plain wood, but it's usually in everyone's best interests to make sure the place looks nice. It will be a permanent fixture in your garden, after all, so you want it to look nice, as well as quite appealing to your child.
If you do choose to go with plain wood, be sure it's treated and sealed to avoid problems. You may wish to add wood siding to make it even nicer, or you can opt for a more mainstream siding. It's quite nice to make the small house match the big one.
Alternatively, you could paint the exterior in any colour you like to give it that special touch. Or add a façade, with faux bricks or stones over the original walls. There are so many ways you can go with this method. Get an opinion for your child on their preferences, as well. You may not be able to do the playhouse in polka dots or stripes but certainly consider style and colour preference.
How to Install and Maintain Your Playhouse
The playhouse should be installed where the ground is nice and flat. You can create a flat surface for building on if you like, but you'll need to ensure the soil is also firm enough to support the building.
Avoid any areas that tend to collect water, since excess water can cause wood rot. In some cases, you may wish to lay a foundation and set the playhouse on a concrete platform to help it stay out of any water and to protect it. Likewise, keep the playhouse away from trees and bushes, which could also trap moisture against the playhouse or drip more moisture onto it. There's also the possibility of falling limbs or trees causing safety issues.
Ideally, you'll have access to all four sides of the playhouse so you can easily access all areas for any repairs or maintenance.
Do You Need Planning Permission?
Depending on where you live, you may need planning permission to install your playhouse. This is always a good idea to check when you buy garden buildings in general. Most areas don't require permission, but you should always check to be sure.
A 2 storey playhouse is more likely to require planning permission.
Location
You're legally bound by local building laws, as well. You cannot place the playhouse in front of the first property wall on your land or take up more than half of your outdoor space. Since there are rules, you'll need to look carefully around your property for the perfect place.
Installation
If you're building the playhouse yourself, it helps to have a good plan. However, if you purchase a prefab building, it should be relatively simple to set up on the base you've poured. Your garden buildings and playhouse can be made from similar materials so they all blend into the garden look.
Maintenance
Your child's playhouse should need no more maintenance than your regular home. As long as it has been correctly treated and installed, there should not be any leaks or issues to deal with. Keep an eye on the space after a storm to ensure there are no leaks inside. Water damage can be insidious and may destroy the building if it takes hold.
Be sure to clear out or have your child clean out any bits and pieces of food and wipe up spills to prevent pests. The last thing you want is ants and mice in the playhouse.
Your children will love having their own space and once they've grown up and left home, you can convert the old playhouse into an office, garden shed, or even a small guest room. The possibilities are endless, but you do need to take care that your playhouse is maintained over the years.
Are you looking for the perfect garden playhouse for your children? At A1 Sheds, we offer a wide variety of options to consider.
---