A Guide to Garden Buildings and Which One is Right for You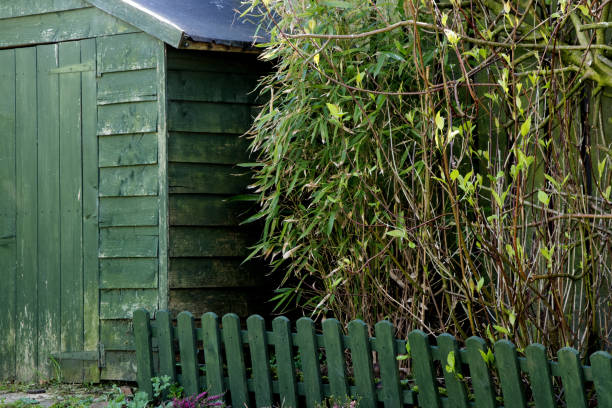 If you have a little extra space in your garden, you can make better use of it by adding a garden building. A simple outbuilding can often create a whole new use for your space and it allows you to store items or work in your garden.
There are so many buildings to choose from, however, that you may find it difficult to know which choice makes sense for you. From a small lean-to greenhouse to a 2 storey playhouse, wood or plastic outbuildings, and a range of size options, you can find the perfect outbuilding for your home. In this article, we'll take a closer look at what your options are and how to determine which shed to purchase.
Materials: Which One is Best?
There are three main materials that your shed can be made of. There are metal buildings, wooden ones, and even plastic outbuildings.
Plastic
Most people don't think of plastic outbuildings when they think of garden sheds, but they're surprisingly useful. It can be moulded to look like any type of finish on the outside and the plastic means it's quite easy to clean. You can disinfect the entire building, inside and out, and plastic is durable.
These sheds are meant for outdoor use, so they are strong and maintenance free. They're also very easy to put together. However, the plastic sheds tend to do poorly in extreme temperatures and may crack if it is very cold. They're also nearly impossible to customise, as they are moulded.
Since plastic is only able to withstand a certain amount of pressure, plastic outbuildings are somewhat limited in size. However, you rarely need to worry about mould or mildew growing on them, and they're completely waterproof. The material will never rot or rust and while it's not the best choice for the environment, it doesn't gather pests, either.
Metal
When it comes to durability, virtually nothing beats a metal shed. These buildings are solid and long lasting, while being structurally sound. They also tend to be lower cost than other types of outbuildings and come in sheets, so you can put up your shed rather rapidly.
Metal sheds can be transported or moved easily, as well. They're often used for storage or to house vehicles and garden equipment such as mowers and tractors. Since the metal is recyclable, it's a green method of building your space.
The downsides do exist though. First, metal is conductive, so it will pass the cold or heat rapidly to the inside. This means a simple garden shed can become very, very hot on a sunny day and deathly cold during the winter. While they can be insulated, it's not as easy as with a wood or plastic shed.
Some metals will rust or deteriorate if not treated properly. You'll need to repaint or seal every so often to keep the metal in good condition. However, if it is maintained properly, it will last for decades.
Wood
Wood sheds can be beautiful and ideal to set up in your garden for any type of use, whether you're looking for a studio, a garden shed, or a children's playhouse. They do have pros and cons like everything else though.
On the plus side, wood is a renewable resource and is quite lovely to look at. It can hold some rather heavy loads and it's a good insulator. This means if you wish to use it for somewhere you'll sit in, it's best to build your shed out of wood to prevent cold and heat from coming in.
Wood can be painted or stained and generally finished the way you wish. It's simple to customise them and add windows or adjust the way the shed looks. They're also available in a range of sizes, from a large summerhouse to a mini greenhouse.
However, wood weathers if not treated and can look warped if it gets wet and it requires proper maintenance to ensure it doesn't fall apart. Wood rot, termites, and water can all affect a wood outbuilding, making it necessary to treat it, finish it, and occasionally replace pieces that have become unstable.
It takes longer to build a wood shed, as well, but you can buy prefabricated outbuildings that are simpler to put together. These are a much better option than trying to build a shed yourself, particularly if you have no experience.
Types of Garden Buildings
There are many options when it comes to outbuildings and you can easily get confused. Here are some of the more common options and what they're good for.
Garden Sheds
A garden shed is the perfect spot to keep your gardening tools and odds and ends that you may put out during the summer and then store for the winter. The size of the building will depend on whether it's merely for storage or if you intend to use it for potting plants and such. It will also depend on the amount of garden supplies you have to store. Standard sizes for garden sheds range from 6×4 all the way to 10×6, but you can choose any size that works for you.
Playhouses
Does your child need a little more space for play? A playhouse is the perfect choice for a child and they can be large enough that your child will use it for years to come. A simple 4×4 playhouse is usually more than enough for a small child, but you may wish to choose something a bit larger if you wish to turn it into an office once they've outgrown the play aspect. Playhouses may sit on the ground or they can be 2 storey playhouses that are raised off the ground. Either way, your child will find it fun and exciting to use.
Garages
If you have one or more vehicles, you know that the weather and simply being outdoors can be quite damaging to the finish. This is why many people choose to keep their cars in a garage. A standard garage is about 10×15 feet, but you can choose a larger option if you wish to store tools in there, as well. Sometimes, a little extra space for a workbench is also helpful.
Log Cabins
A small log cabin will look charming in your garden, but it can also store quite a lot of things. Many people opt for the more stylish log cabins with glass doors and windows to create a little guest suite in their garden. They're also quite useful for a studio or office space, if you need it.
Reminiscent of tiny homes, log cabins can come in a wide range of sizes, from little BBQ huts that are just a few feet across to proper cabins that are 18×14 and offer more space than many tiny houses.
Summerhouses
A summerhouse gives you a space where you can enjoy the outdoors with large windows and still have some shelter for sitting. These are usually small cabins, but some can get quite large. There are so many different styles available that you'll need to determine what you want from a summerhouse before you buy.
If you have a pool, one of these glass-fronted houses would be perfect for a pool house. They really can serve so many purposes that there's no reason not to get one. A large summerhouse can even serve as a place for extra guests to stay when they're visiting your home. It provides them with a separate area to sleep in, but keeps them close to you.
Greenhouses
If you are interested in gardening seriously, you'll need a greenhouse. These are essentially glass houses with wood or metal struts inside to hold it all in place. This allows the sun to reach the plants and keeps the greenhouse warm without the extra breezes that can damage small plants.
From a small lean to greenhouse to one the size of a small apartment, you can have nearly any size you like. It all depends on how much gardening you do and how much space you have in your garden. There are many sizes pre-made, but you can also customise your own place.
Are you in need of a garden shed? Whatever type of outbuilding you're interested in, you'll likely to find it here, in A1 Sheds' catalogue. We offer a wide range of outbuildings in various materials for your needs.
---