Garden Summer House Design Ideas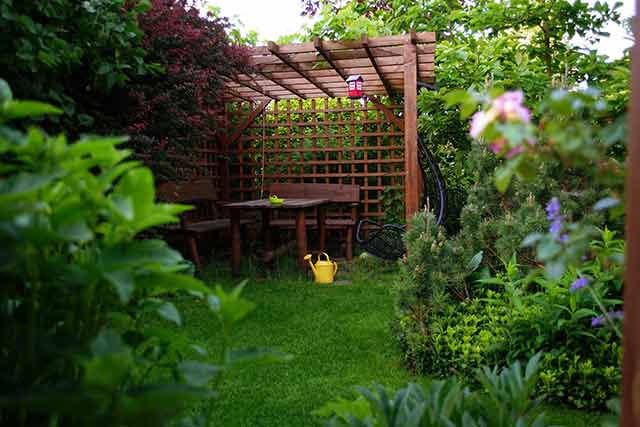 Looking to turn your garden summer house into the perfect getaway space? A summer garden house is capable of carrying out several different functions, transforming your garden space and design in the process. Installed in both traditional and modern specifications, garden summer houses can be perfectly suited to your individual needs. Let's take a closer look at what garden summer houses are, and what they could potentially be used for.
What's A Summer House?
Garden summer houses are wooden outdoors structures that provide an outdoor escape and home away from home, for a number of different functions. Able to be used as an office space, games room, children's play area, a gym and more, there are no limitations to the purpose of your space, with plenty of room for individuality. Summer garden houses can be easily customised, in terms of style and size to suit your specific requirements, with many summer houses including porch steps, verandas or canopies to further extend the size of your space. Available in traditional and contemporary designs, there's a summer house for every individual need!
Why Have One?
An innovative way of updating and improving your garden space, a garden summer home can fulfil several different functions depending on your requirements, typically operating as an extra room, space or extension of your home. Practical and well designed, a garden summer house will behave as a main centrepiece for your garden as well as a unique space for whatever function you desire. Commonly used as a place to carry out hobbies, exercise, perform office work or simply as a place to relax and unwind, a garden summer house can be modified to function as a gym, meditation room or children's play area.
Types of Summer House
As mentioned, there are different types of garden summer houses available, with slight variations in design, style and specifications. Available in contemporary, traditional, large and small specifications, some garden summer houses are even reshaped to fit comfortably in the corner of your garden. Here are the main types of garden summer houses available today:
Contemporary
If you're seeking a stylish, modern design, then a contemporary garden summer house is surely the appropriate choice. Contemporary garden summer houses have an interlocking tongue and groove board design that helps to create a smooth and clean aesthetic. A contemporary garden summer house can completely reinvent your garden space, offering a modern centrepoint you can build upon with the additions of plants and flowers that match your design specifications.
Traditional
On the opposite end of the spectrum, a traditional garden summer house design can provide a classic aesthetic, with the potential to install Georgian windows and the commonly used apex roof shape, traditional garden summer houses are perfectly suited for the traditionalists among us.
Corner
It's not always possible to find the right space in your garden for a fully-fledged contemporary or traditional garden summer house, but with a corner house, you can easily fit your garden summer house into even the most unusual or obscure of spaces. Specifically designed to fit into a corner of your garden, most corner garden summer houses will feature two opening side windows and a set of double doors that work together to provide a beautiful panoramic view of your entire garden.
Log Cabins
If you wish to take your garden summer house to a whole new level of design and practicality, you could consider a log cabin summer house should your garden allow for the extra space required, due to their large size and shape. Luxurious, sturdy and able to withstand harsh weather conditions, a log cabin summer house will look magnificent and last a lifetime.
Garden Summer House Designs
Once you've decided upon the appropriate garden summer house style, shape and size for your garden, it's time to start thinking about the interior design elements. Garden summer houses can be fitted to carry out a number of different functions, from a simple workshop to a play area for your children. Below are some of the main uses for garden summer houses:
Workshop or Tool Shed
Who said a garden summer house had to be different? As with any traditional shed, a summer house can function as a perfect workspace or tool shed with plenty of light and space. You'll be able to customise the design yourself to suit your tools, with specific fittings, wall hangings and storage facilities adjusted to your unique preferences.
Outdoor Dining
What's summer without outdoor dining? With a garden summer house, you can move the family outside for an extra special summer dining experience. You can customise the space for your requirements, adding an elegant dining set, table and chairs for your guests, and can even throw in some fairy lights, party music, strawberries and a bottle of champagne for good measure!
Bar
With a garden summer house, you can very quickly transform your space into your local, either in a contemporary or traditional style. You can modify the colour scheme, design type and assorted signage/decoration to suit your personality. For instance, a traditional design may require stained wood, bar stools, tributes to Guinness and maybe even a fruit machine, whereas a more modern design will likely require light colours, glass, mirrors and a cocktail bar to elevate the space.
Home Office
As the last eighteen months or so have proved, working from home is both at times a necessity but can be surprisingly difficult. It can be easy to become distracted by the modicum of your daily living, from feeding your pets, socialising with family or flatmates or doing a quick tidy of your bedroom, it can be almost impossible to focus! With a garden summer house being turned into a home office, you'll get the best of both worlds, a professional working environment at home, but one that's just far enough away from the noise and clutter of the kids to keep you in the right mindset for sending out those all-important emails.
Children's Playroom
A great way of making the most of your garden summer house is by turning it into a children's playroom. Not only will this be a clever way of getting the kids out of the actual house for a few hours whilst you finish off some household chores, but it will also act as a specific getaway for your children, a place that they can take advantage of their whimsy, wonder and imagination, without the fear of staining the carpet! You can fill out the playroom with board games, puzzles, Lego, or even a TV and Gamestation to help keep them occupied on those sluggish Sunday afternoons.
Meditation Room
Why not transform your garden summer house into a yoga haven? With the use of light colours, pebbles, plenty of air and space, a yoga mat and perhaps a scented candle or two, you'll find the ultimate relaxation space. If meditation isn't your forte, why not introduce a bookcase and a recliner sofa? That way you'll have your very own space to unwind, refocus and catch up on the latest novel right at the end of your garden!
Gym
Much like a meditation or yoga room, a summer house can easily be turned into a personal at-home gym. If your summer house has access to a power supply, you can easily add in some key pieces of electronic exercise equipment, such as a treadmill, as well as the ability to introduce yoga mats, dumbbells and exercise balls. The great thing about having your very own gym is the ability to facilitate it to your requirements and design choices.
A1 Sheds – Sheds, Summer House and Garden Building Solutions Across the UK
Established in 1982, at A1 Sheds and Garden Buildings, we are committed to providing the best service and take great pride in being on-hand to offer professional and practical advice when it comes to all things shed related. We can provide you with free assembly and installation by a professional team on many products, not to mention the fact that you can depend on us for quality and cost-effective garden building solutions.
Our summerhouses come in a standard style with windows on multiple sides of the structure and french doors. We have a broad range of dimensions to choose from so that you can pick one that'll fit best in your garden. We also have summerhouses in different shapes, like our corner options, and have some additional features such as decking, corner planters and verandas to give you more of a continental feel. Whether it's a small summer house or an elaborate, large summer house with many additional features, we'll stock the right one for you! Visit our website today.
---