How to Get Started with Your Greenhouse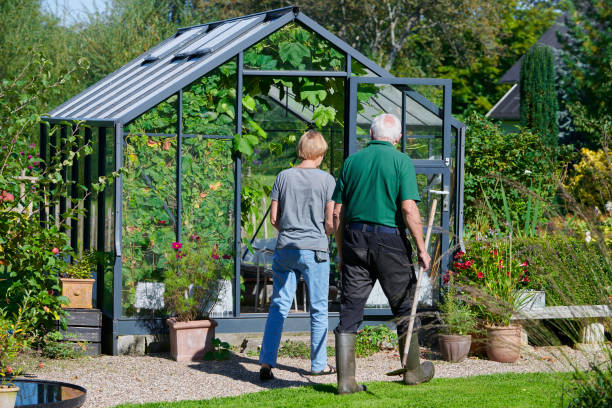 Once you have a greenhouse set up, what do you do with it? Many gardeners dream of this moment, but once it comes, you may not be sure where to begin. Today we'll look at what you can do to start using your new greenhouse and start growing amazing produce or other types of plants.
What to Grow
You can grow nearly anything in your hothouse, but it's a good idea to start out with things you will use and that are relatively easy to grow. For example:
Tomatoes: These can be started in the greenhouse and then moved outdoors once they're larger and the weather is nicer.
Radishes: You'll have a crop in no time with these since they grow very rapidly. Radishes are a great beginner plant.
Lettuce: Any type of leafy green will do very well in a greenhouse, so plant a few different types to enjoy in a salad.
Onions: Another easy to grow and very useful plant is the onion. You can enjoy fresh green onions early on and if you let them continue growing, your plants will eventually produce lovely onions for chopping up with your next meal.
Flowers: Do you want something more decorative as your first plants? Sunflowers are easy to grow and will do well in the greenhouse, but can later be moved out if they grow too tall.
Whatever you choose for your first project, be sure to follow the seeding instructions.
How to Equip Your Greenhouse
You really don't need much to get started gardening in a greenhouse. If you're starting seeds, you can begin with seed trays and plant in them, then later transplant as needed.
You may need to install a heater in the greenhouse. It won't always be needed, but if it's getting chilly in there, you'll want to heat things up to keep your plants alive. Likewise, you may need to cool the area in the summer months. This usually requires simply opening the door to allow a little more airflow.
You should also have a way to easily water your plants. This may be simply a hose or a faucet with a watering can nearby, or you can have a full irrigation system set up. The choice is yours.
You may also want to look into fertilisers and ensure that the soil you use is properly designed for the task at hand. If it's too sandy or too full of clay, you'll need to mix in some extras.
If you're ready to start your greenhouse growing journey, contact A1 Sheds today. We offer a variety of greenhouses to start your gardening journey.
---