How to Look After Your Shed This Winter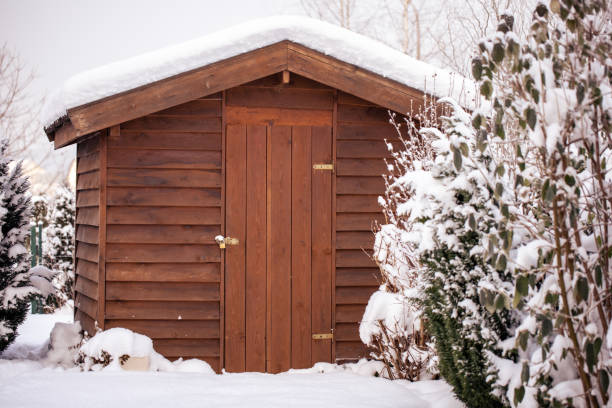 Garden shed maintenance is important all year round in order to ensure the longevity of your garden building. Whether you have a summer house, shed or log cabin, it's important to make sure you maintain and protect it against the weather.
The winter months bring rain, snow, ice and icy temperatures so here's what you can do to protect it.
What type of shed do you have?
Different types of sheds will need different attention, so only use maintenance products that are actually designed for the material your shed is made from. For example, timber sheds will need entirely different protection than metal sheds.
Before anything else, make sure your shed is clear of any debris from the walls and roof as this can cause mould to form and rot the wood.
Wooden sheds
If you have a wooden shed in your garden, there are a few ways you can ensure it lasts throughout the ever-changing British weather. If your shed is pre-treated, it's still a good idea to apply an extra layer of protection to the wood. You should treat your shed with a good quality wood preserver once a year to keep it in tip-top condition.
Metal sheds
You likely chose a metal shed for its durability and minimal upkeep, so you probably already know these structures don't need too much attention. They're designed to withstand harsh elements and you won't have to worry about rot or mould. In this case, a quick once over will let you know if there's anything to be concerned about and you can quickly give the gutters a clean and check there's no debris build-up.
Plastic sheds
A more cost-effective and efficient shed solution, plastic sheds offer an impermeable shelter from the elements. It's worthwhile checking the shed if it has snowed and clear any off the roof as snow can be heavy when it builds up and could cause the roof to cave in.
Check your security
Your shed will likely not get used as often during the winter months so make sure you check it's safe and secure during the colder months. If you haven't already, install a padlock and give doors and windows a once over to ensure they will hold up.
Prevent mould growth
Mould will inevitably grow in damp conditions so make sure to check your shed thoroughly before winter. It may be worth cleaning out your shed entirely so you can get a better look at the inside. It's also a good idea to keep the door open as often as you can. Perhaps if you're doing some gardening, give it a chance to dry out with the door open.
A1 Sheds & Garden Buildings have a fantastic range of garden sheds to give you a great storage solution throughout the winter. Whether you're looking for timber, metal or plastic, we have many options so we're sure you'll find one you love. For more information, visit our website.
---