How to Organise a Prefab Garage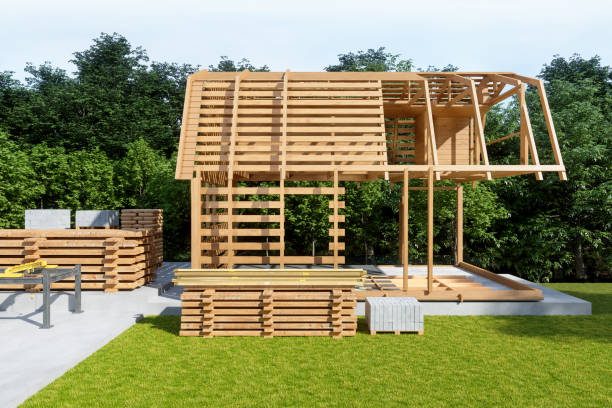 If your home didn't come with a built-in garage, you don't have to leave your vehicle outside all the time. In fact, you can have a prefab garage installed rapidly and immediately give your vehicle protection.
There are many types of prefab garages and garden buildings that will work as timber garages, so if you don't currently have one, just add it on. The only issue with these is that you need to install it yourself, but this is quite easily done.
The Benefits of a Prefab Garage
There are quite a lot of reasons to install a prefab garage. The simple fact that they are very easy to add to your existing building makes a prefab option quite attractive. However, there are many other reasons to use them, as well.
Flexibility of Use
There's no rule stating that a garage needs to be an actual garage. If you prefer to leave your vehicle outside, it's easy enough to convert the garage into the type of space you need. Whether you want a spare room, a workshop, or something else, there's no shortage of ways to convert and use the space.
Many people convert their garages into something more useful and there's no reason you can't do the same with a prefab garage. They are quite flexible in how you use them.
Mobility
Are you planning to live where you currently reside forever? Most people intend to move at some point when they have the option of getting to a better place. However, if you do move in the future, you'll have the option of taking your garage with you.
Prefab buildings are relatively simple to move and you will be able to set them back up when you arrive at the new house. Alternatively, you can leave it in place and add value to your home when you sell it.
For those who are in a place temporarily, a prefab garage is an excellent option. It allows you to enjoy the security of a garage, without the need to invest in something you cannot take when you leave. If you have a rental unit, for example, you may be able to place a garage for the time you live there. Of course, this is dependent on the laws in the area and the landlord's position, but it can be a good alternative to moving immediately when you need a little more space.
Cheaper Than a Built-On
Did you know that built-in garages tend to cost more than a prefab one? If you have decided to add a garage to your home, it's worth getting a quote to see exactly how much you're saving. This savings is possible because the prefab is made from a pre-set design with tools that are meant to create the same space, but with minimal materials. There is nothing wasted in planning or creating a floor plan, as the same design is used over and over.
Less Maintenance
Most prefab garages do not require any extra maintenance and may even be easier to maintain because they are designed from materials that will stay in good condition over time. The wood is treated and the entire project is made to last.
Organising Your Prefab Garage
Once you've set up the prefab garage, you can start working on it to make sure it is as organised as you need it to be. The garage is far more than just a place to hold your vehicle. Even if you don't want to use it as a workshop or a studio space, you will need to store some things there.
To begin with, you'll want to draw up a floor plan. This is the simplest way to ensure everything will fit where you need it to. There are plenty of free software options online to create a floor plan, but you can also just use a pen and paper.
The next step is to determine what needs to be included in the garage. You'll likely need tools for working on the car, as well as general tools for use in the house. However, you may also want to include an area for bicycles and their hardware. Be sure to keep all like items together. For example, any gardening tools should be kept in one area.
If you have larger items that you'll use outdoors, such as a lawnmower, you should keep this in a place where it isn't in danger of being hit by a car.
Add Shelves and Hangers
The garage only has so much floor space and much of it will be taken up by the vehicle when it is inside. This means shelves and hooks on the walls are going to be very useful. They allow you to lift items off the floor and you can use all the vertical space for storage, too.
To ensure you can keep everything neat and organised, put hooks or other holders for everything from tools to bicycles on the walls. It may be helpful to trace around the tools in permanent marker so everyone knows where they need to be put when stored.
A slat wall allows flexibility when hanging items and lets you shift the hooks as needed when you get new equipment.
Invest in Bins and Boxes
If you have items that you rarely use or only use during one particular season, such as skis or chains for the tyres, you can easily put these into boxes and store them up and out of the way. Ideally, your garage will have a loft area or you can build in overhead racks to store items that are not currently needed.
Purchase clear bins or you can ensure that each one is clearly labelled. Again, keep like items together so you can easily find them, even if they're up in the loft.
Boxes that you regularly use, but don't necessarily want the items rattling around the garage, can be placed on open shelves. Shelves are easy to install, allow for immediate access, and let you see just what you have available. They also force you to be as organised as possible.
Install a Workbench
Whether you're working on the car or a school project, having a workbench in the garage is a good idea. It should go on the back wall, so you have plenty of space to work, and should be well lit. It's worth installing extra lighting there so you can always see what you're doing.
A good workbench has enough space to use any tool you need and to spread out your work a bit. You should also have shelves nearby for the items you need, such as a soldering iron, screws and nails, etc. Of course, this will depend greatly on what you are interested in working on.
Tips for Garage Maintenance
Like garden buildings, your garage needs some upkeep. You'll need to ensure there are no leaks and no flooding happening during rainstorms. This may cause water damage to timber garages and rust in metal ones.
It's also a good idea to trim regularly around the garage to prevent overgrowth of vegetation. These can be prime areas for insects and pests to hide, so it's best to just keep the plants trimmed.
Keeping your garage organised and neat will also prevent accidents. You don't want to trip over items left out when they could be properly stored, so get in the habit of putting things away. Your family should also be taught to do this and with everyone working together, the garage will stay tidy.
A prefab garage allows you to have quite a lot of extra space to store your items in and it's always a good idea to choose a slightly larger garage if possible. This will give you more room inside and you can easily store everything away.
If you're looking for prefab garages and garden buildings, A1 Sheds has plenty to offer. Take a look at our catalogue and see what we can do for you.
---