Plastic Sheds: How They're So Versatile and What They Can Be Used For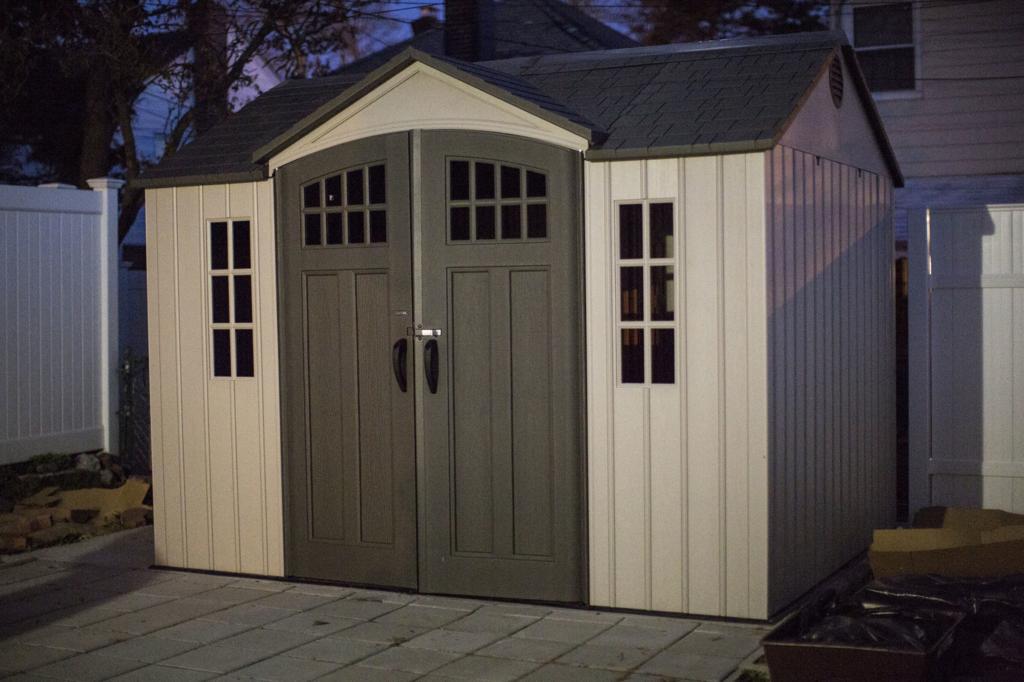 When you think of sheds, your mind may automatically think of a classic timber structure. However, there are many more options on the market today, some of which may suit you more than the standard wooden shed. Some people may have misconceptions about plastic sheds, assuming they aren't sturdy or durable. However, plastic sheds are a fantastic alternative and offer plenty of advantages. If you're investing in a new shed for your garden, a plastic outbuilding may well be the answer.
Here we'll explain why plastic sheds are so great and why you should consider buying one.
Types of plastic outbuildings
When choosing a plastic outbuilding, you aren't restricted to a standard 6' by 6' shed size. There are many options available as plastic sheds are extremely versatile. If you are tight on space you could even pick a smaller 4×3 model or a much larger 8ft model that could fit bikes and garden equipment. LIFETIME sheds offer a broad range of fantastic plastic outbuildings that can be used as an office, home gym or entertainment room. The options are really endless.
The benefits of plastic garden storage sheds
If you aren't yet sold on buying a plastic garden shed, here are the reasons they are so great:
Maintenance-free
Unlike other, less durable materials, plastic requires absolutely no maintenance. When you use materials such as timber, you run the risk of rot and you'll have to continue upkeep with shed paint, sealant and treatments. This is time-consuming and not cost-effective and if you don't maintain your wooden shed, you may potentially find your shed deteriorating very quickly.
Similarly, metal can experience rusting which can cause damage to the frame of your shed. With a plastic shed, you'll never have to paint, sand or treat them for pests. They are also easily cleaned with just soap and water. So a quick wipe down every couple of months will keep your plastic shed looking brand new. No matter the weather, you will not need to replace the roof of your plastic shed or treat it with more sealants to maintain the look and structure of your outbuilding.
You can add a window
Many plastic sheds are able to be installed with a window. This is a great way to add natural lighting to your building and negates the need for light fittings. Sheds with windows are much more attractive and make them feel like actual buildings rather than garden structures. In comparison, many metal sheds are unable to be fitted with windows due to the difficulty required in fitting one in the material. Plastic is much more malleable than harder materials like metal.
Long lifespan
Plastic won't be affected by tough weather conditions so you can rest assured knowing that your plastic shed will last for years to come. Many plastic sheds come with a 10-year warranty, so even if you do run into a problem with the integrity of your shed, your warranty will most likely cover it for up to 10-years. This means your investment is worthwhile and will last you much longer than some timber sheds.
Easy to move
Should you end up redesigning your garden layout, plastic sheds can be easily moved. Because plastic is a very light material, you can be confident that should the time come to move the shed, it will be easy to do so. This is also great if you are moving house. Taking apart and transporting a plastic shed is significantly easier than moving metal or timber structures. So if you're unsure that you'll want to keep your shed in one position for a long period of time, you can know that it will be very easy to move in the future.
There are a huge variety of sizes available
Depending on what you want your shed for, plastic sheds come in a huge array of shapes and sizes. From simple storage boxes to bigger multifaceted structures. They are also much more contemporary than timber sheds, so may suit your garden better if you are aiming for a more modern style. You can pick between a variety of openings to suit whichever works best for your requirements.
Double doors are common on plastic sheds and this gives you enough space to put in large pieces of garden equipment or children's garden toys. For example, if you'd like to store your children's trampoline over winter, you'll be able to find a plastic shed that is perfect for the job.
What can you use your garden storage shed for?
Plastic sheds are an ideal solution for many different purposes. These include:
Equipment storage. It's unlikely you'll have all your garden equipment out all the time, or have space for it all in your garage. With a convenient plastic shed, you can keep lawnmowers, leaf blowers, rakes, spades, wheelbarrows and a range of other important equipment out and away from the elements. Gardening equipment soon adds up and having extra storage is important in ensuring the longevity of your expensive equipment.
Bike storage. Keeping your bike outside in your front or back garden can be a huge inconvenience. Particularly if it is left out in the British weather. The alternative may be keeping your bike inside your home, which can end up taking up a lot of space unnecessarily. Installing a small bike shed in your front or back garden is a great way to keep your bike safe from the elements as well as keeping it safe from thieves. You can install a lock onto your plastic shed and ensure nobody but you is able to gain access.
Temporary workspace. If your house is too cramped for you to work from home, larger plastic sheds offer you the opportunity to create a temporary workspace or office. This is a contemporary solution and provides you with that much-needed space to be able to separate work and home life. In a time when working from home is a regular occurrence, creating a garden office is a fantastic way to ensure you can switch off at the end of the working day.
A playhouse for children. A plastic shed with windows can double for a fun playhouse for your kids. Put some toys inside and they'll love to have their own space all to themselves that they can spend time in together.
Summerhouse. A summerhouse is a perfect spot to relax and read a book during the warmer months. You can open the double doors and put in some comfy chairs or even a hammock and enjoy the sunshine and light breeze.
Plastic sheds truly offer a wide range of options and opportunities to adapt your garden exactly the way you'd like it. Whether you opt for a smaller plastic shed or a large shed, there are many ways you can enjoy the added space. Furthermore, plastic sheds are long-lasting and maintenance-free so you can be sure to enjoy them for a long time.
Plastic Shed Solutions With A1 Sheds & Garden Buildings
If you're looking for sheds and garden buildings, A1 Sheds & Garden Buildings offer everything you need to create the ideal garden storage solution. We offer a wide variety of plastic, metal and timber sheds in a range of configurations. Whether you need a large shed or a small shed, get in touch today. We also offer sundries such as shed paint, bases and accessories, to ensure your shed lasts as long as possible. For more information, get in touch with our friendly team today. We look forward to hearing from you.
---