Three Reasons Why You Should Invest in a BBQ Hut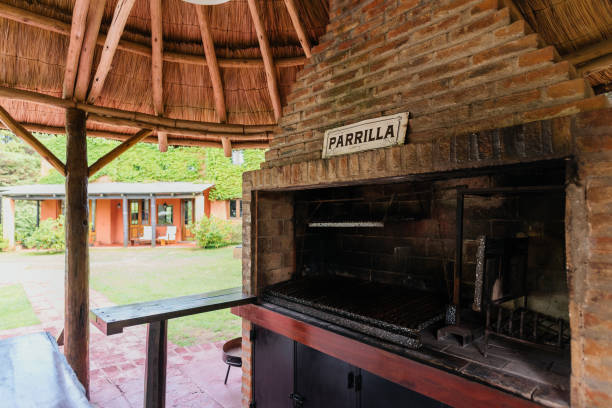 It goes without saying that for many of us, the garden is one of the most important parts of the house. One way of improving your garden area and making it a social hub for friends and family is by investing in a BBQ hut. Barbecue huts are particularly effective because they allow you to throw a grill party, whilst also guests to easily converse across the table. Although other garden parties are entirely dependent on the weather, outdoor bbq huts do not have this restriction so you can have BBQs all year round!
If you're still not convinced, here are three reasons why you should invest in a BBQ hut this year!
Spend Quality Time with the Family
BBQ huts are a great location for the family to spend time together. Rather than spending your evenings in the house, these barbecue huts allow you to catch up and spend time with the family in an outdoor space. Even if the weather isn't great, putting the fire on will soon make things cosy! To top it all off, the benches in the hut allow you to have a snooze after a meal or a competitive games night.
A New Way to Cook Food
Whilst traditional barbecues demand that you stand outside and keep a firm eye on the food, these huts make the cooking experience more enjoyable by providing benches for your guests to sit on whilst you cook. There is a chimney on the BBQ, so the smoke is carried away safely. These huts make cooking meats and grilling vegetables an enjoyable experience, making you count down the days to your next garden party. As well as that, the dining experience will be much improved too, as your food will be protected from insects, flowers and of course, the weather!
Protect your Outdoor Furniture
If you have any outdoor furniture, then it is likely that the weather has damaged it and you have had to invest in a replacement. If you regularly check the weather forecast then your furniture might be safe, but the outdoor furniture is likely to be impacted by the weather for those who don't keep tabs on the weather. Although you can protect outdoor furniture with some sort of covering, this doesn't have the best appearance and could even be damaged too. Therefore opting for a BBQ hut as your outdoor space means that all of your furniture is protected at all times.
If you believe that an outdoor barbecue hut could be the perfect addition to your home this year, then A1 Sheds & Garden Buildings are the company for you. We know how important your garden area can be, that's why we provide bbq huts that you can use all year round. With the ability to customise your own BBQ hut, we're sure we can provide you with the perfect hut for your home. To explore the rest of our products and services, either visit our website or get in touch with our team today!
---