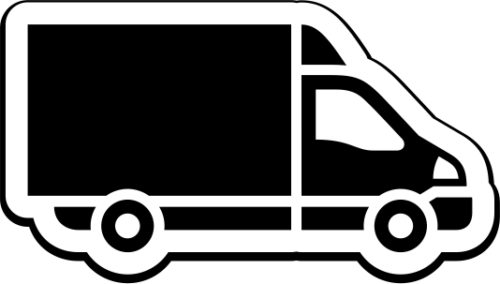 A1 CABINS™ DELIVERY: 4-6 Weeks*
*A1 Cabins™ delivery lead time is currently about 4-6 weeks for most parts of Britain, however some remote areas may take a bit longer. Either way, we guarantee to get your building to you as soon as possible!
Description
MARPLE Insulated Pent Cabin with EcoQuilt™
The Marple Insulated Pent Cabin is a modern, quality building with a sloping pent roof. This cabin is ideally suited as a garden office, and is made using 66mm thick walls, with 19mm tongue and groove floor and roof as standard. The Marple Insulated Pent Cabin has EcoQuilt™ insulated walls, roof and floor, and comes with opening 'toughened glass' double-glazed windows, and wide double-glazed doors. and are available in untreated or pressure-treated timber!
The Marple Insulated Pent Cabin is made with a choice of untreated or pressure-treated timber. There are three popular sizes, all made to stay below the 2.5m height legislation!
---
Features
EcoQuilt™ insulated walls, roof & floor
Thick 66mm insulated panels
Tanalised™ (pressure-treated) or untreated timber
Toughened safety glass and wide joinery-made double doors
Easy assembly with modular panels
27x44mm internal framing
Heavy duty 19mm T&G roof and floor
3x popular sizes 8×8, 12×8, and 14×8
Double-glazed, opening windows as standard
Under 2.5m to avoid planning permission
Manufactured right here in the UK!
---
Quality Construction
The walls of the Marple Insulated Pent Cabin are made from 66mm thick modular panels c/w EcoQuilt™ insulation, and is made from high grade, responsibly sourced untreated or pressure-treated timber. The floor and roofs are comprised of heavy duty 19mm thick tongue & groove boards to ensure the log cabin is robust and durable. No inferior products are used (such as OSB or chipboard floors and roofs).
All cabins are under 2.5m to the ridge, allowing you to bypass most planning permission restrictions that may apply to residential builds.
---
Quality Inside
Maximise you garden's potential, at a fraction of the cost of a conservatory, or extension. These cabins can be used for many purposes such as a home office, garden room, home gym, man cave, entertainment room etc. They add value to your property, and have the benefit of a beautiful usable space.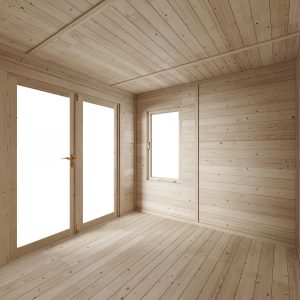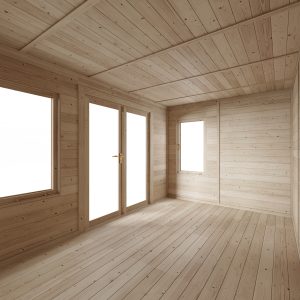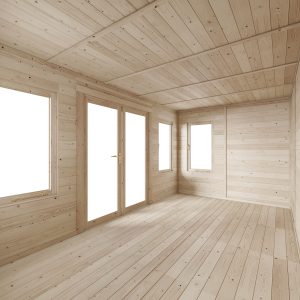 ---
Doors, Locking System & Windows
The Marple Insulated Pent Cabin comes complete with joinery-made double doors and 'Casement' Opening Windows. All glass is both toughened and double glazed – perfect for extra security and insulation. Not only is there the toughened double glazing, but there is a secure mortice lock system on the doors, therefore, whether you plan to use the log cabin for storage, or for a garden office, this extra secure space will provide that additional peace of mind.
---
Preservative
This insulated cabin is supplied with untreated timber as standard, however you can upgrade to pressure-treated Tanalised™ timber which protects your cabin from rot & decay.
---
Assembly
The 66mm, modular panels allow you to build your cabin with confidence, knowing everything fits tightly and is where it should be. Fixings and instructions are included to allow you to build the cabin yourself, however we may be able to offer a professional assembly in your area. Please check before ordering.
---
Specifications
IMPORTANT: Imperial sizes are approximate, and are shown only as a guide. Please refer to the metric dimensions below for more accurate sizes, or contact us prior to purchase if you have any specific requirements.
Marple Insulated Pent Cabin
External Dimensions (inc. roof) (mm)
*Minimum Base Size (mm)
Door Size (mm)
Opening Windows (mm)

Weight
Model
Roof
Width
Depth
Front Height
Back Height
Width
Depth
Width
Height
Qty
W x H
(kg)
8ft x 8ft
Pent

2660

2880
2320
2140

2460

2490
1560

1850

2

656 x 1211
760
12ft x 8ft
Pent

3830

2880
2320
2140

3630

2490
1560

1876

3

656 x 1211
955
14ft x 8ft
Pent

4420

2880
2320
2140

4210

2490
1560

1850

4

656 x 1211
1136
Information shown above has been supplied by the manufacturer, and is as accurate as possible (errors and omissions excepted), however it is intended only as a guide. We recommend making your base slightly larger than the *Minimum Base Size shown above.
Please ensure that regular general maintenance is carried out on all moving parts.
---
FAQ's
How are these insulated cabins delivered?
Your cabin will arrive with modular, pre-fitted EcoQuilt™ insulated panels. This makes access into your garden, and assembly easy, and the 27x44mm internal framing makes for a really strong building.
What about assembly?
These buildings are simple and easy to build, and we also provide easy-to-follow digital instructions.
What are the different treatment types?
These buildings are supplied untreated, however we can also supply them with a Tanalised® pressure treatment is where chemical preservatives are forced deep into the wood's fibres to resist rot, decay and termites. Pressure treatment gives the wood on your building an extra level of protection and is an effective way of making your building long-lasting. We recommend that a high quality paint/preservative is applied straight away to the untreated cabins, and if you don't intend to change the colour of your pressure-treated building, then a water-repellent will be ideal.
Do they come with any warranty?
Yes, if going with the Tanalised® (pressure-treated) version, then the wood on your log cabin is protected against rot, decay and insect infestation for up to15-years (timber splits or warping, which may occur naturally over time are not covered).
Will my cabin need a base?
Yes, all garden buildings should be assembled on a firm and level base, and we always recommend a concrete base where possible. A good, sold, level base will ensure your building goes together easily, and lasts for many, many years. In order to protect your building from moisture, you should leave a 2ft (60cm) gap around the exterior of your building.