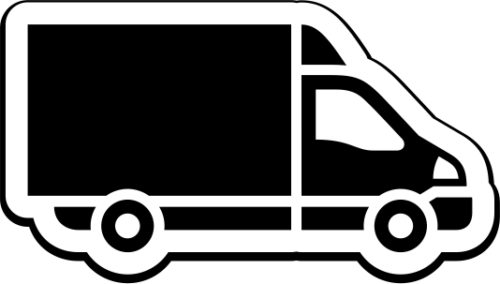 A1 SUNDRIES DELIVERY: 5-7 Days*
*A1 Sundries are normally delivered in 3-5 working days, however some non-standard products, or deliveries to remote postcode areas may take longer.
Description
A1ShedBAR™ Shed Door Security Bar
This shed door security bar is extremely strong. It is made from 10mm thick solid steel, which has been hot-dip galvanised to stay weatherproof for up to 25 years. It is available in 7x sizes – 1m, 1.2m, 1.5m, 1.8m, 2m, 2.5m and 3m, and is suitable for single or double shed doors measuring up to 2800mm wide (with bespoke sizes being available if required).
The A1 ShedBAR is one of the simplest to fit, easiest to use, and strongest shed door security bars available today, with each bar being made from 40mm wide x 10mm solid steel. Each supporting bracket is 40x40x110mm and is crafted from a single piece of 5mm thick steel, and is supplied with FREE M6x60mm cup-squared steel security bolts.
Depending on the length of the bar, you'll receive 2, 3 or 4 brackets as standard, but for even more strength, additional brackets can be purchased to create an effective thickness of 10mm. There is an oval hole (approx.15x30mm) in one end of the security bar to accept a padlock (not supplied). The A1 Shed Door Security Bar is suitable for any building (wood or metal) with outward opening hinged doors.
---
Features
FREE UK delivery* (not available outwith the UK)

 

Trouble-free security with 25-year guarantee
Ultra-strong 40mm x 10mm solid steel bar
Larger 15x30mm oval hole accepts larger padlocks****
Available in 7x different sizes to suit any shed door
Custom sizes can be made-to-order (includes 3000mm bar) however please allow extra time**
Extra brackets available for increased strength on wider doors
FREE M6 x 60mm security bolts and large washers
Easy DIY fitting
Reversible bar allows padlock to be fitted to the left or the right side
Highly effective visual deterrent
Can be fitted to span the door hinges too
---
Easy To Use
You can slide the A1 ShedBAR right out of it's brackets if you have the room, but the easiest way is to pivot it at it's hinge end. That way you don't need to remove the bar completely. You can see exactly how to do this on our video below. 
---
Quality Construction
Each A1 Shed Door Security Bar is made from heavy 40mm x 10mm hot-dip galvanized steel. The shed bars are extremely heavy, with even the lightest bar weighing in at well over 3kg!
The 10mm thick bar is forged into an L-shape at one end to allow it to be pivoted out of the bracket if required. This ingenious design means only one padlock is required, and a large 15mm x 30mm hole**** fits the majority of padlocks with ease.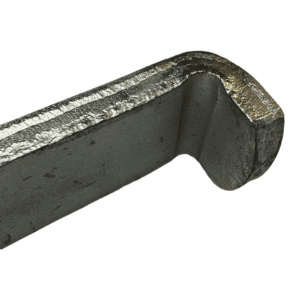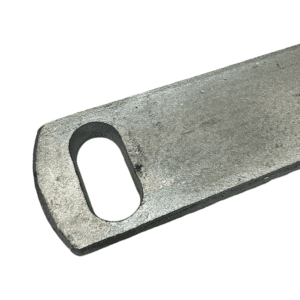 ---
Zero Maintenance
Each security shed bar is hot-dip zinc-galvanized, and has a manufacturers 25-year guarantee. No maintenance required!
---
Straight-forward Assembly
The A1 Shed Door Security Bar is easy to fit. Just position your brackets, drill 6mm holes, and fit into position with M6 bolts. You can use any bolt length you wish, however we supply them with FREE M6x60mm bolts  and large washers which are normally suitable for most sheds. The bar slides into place then you secure it with a padlock (optional). The security bar itself is is designed with a unique lip at one end (see above), allowing it bar to be angled into position. This is ideal if your shed is located between two obstacles.
Top Tip: Wider bars come with one or two extra brackets which can be screwed to the the face of your door/s. This will dramatically increase the strength of your shed doors, and its security.
The brackets can be reversed to allow more room for larger doors (see recommended sizes below), however please note that the door may not open fully, and your padlock may not sit comfortably. Please check that the length of bolts are going to be appropriate for your shed, as you will need to purchase longer bolts if you have heavy framing.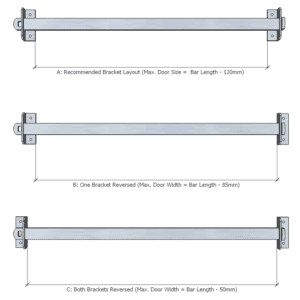 Additional brackets
are available for extra strength… they can be positioned along the length of the bar, or back-to-back at either end, creating an effective bracket thickness of 10mm (see below).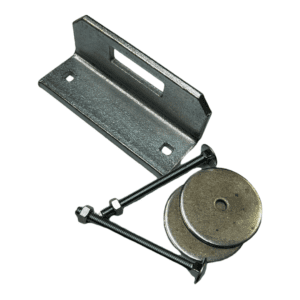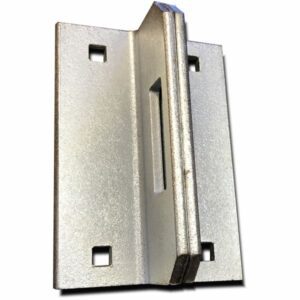 ---
Specifications
Please contact us prior to purchase if you have any queries regarding the dimensions, or if you require exact sizes.
Model
Material

Bar Dimensions

Suits Door
MAXIMUM Suitable Door Width***
Brackets
Gross Weight
A1ShedBAR™
Ref. No.
Galvanised
Colour
Length

Width

Thickness

Oval Hole****

Width
Layout (A)
Layout (B)
Layout (C)
Qty Included
(approx.)
Shed Bar-1
SB1000
Steel
Zinc
1000mm
40mm
10mm
15x30mm
<700-950mm
880mm
915mm
950mm
2
5kg
Shed Bar-2
SB1200
Steel
Zinc
1200mm
40mm
10mm

15x30mm

900-1150mm
1080mm
1115mm
1150mm
2
6kg
Shed Bar-3
SB1500
Steel
Zinc
1500mm
40mm
10mm

15x30mm

1100-1450mm
1380mm
1415mm
1450mm
2
7kg
Shed Bar-4
SB1800
Steel
Zinc
1800mm
40mm
10mm

15x30mm

1400-1750mm
1680mm
1715mm
1750mm
3
8kg
Shed Bar-5
SB2000
Steel
Zinc
2000mm
40mm
10mm

15x30mm

1700-1950mm
1880mm
1915mm
1950mm
3
10kg
Shed Bar-6
SB2500
Steel
Zinc
2500mm
40mm
10mm

15x30mm

1900-2450mm
2380mm
2415mm
2450mm
4
13kg
Shed Bar-7
SB3000
Steel
Zinc
3000mm
40mm
10mm

15x30mm

2400-2950mm
2880mm
2915mm
2950mm
4
16kg
Information shown above has been supplied by the manufacturer, and is as accurate as possible (errors and omissions excepted), however they are intended only as a guide and sizes may vary slightly.
*The delivery service covers most of England, Wales and Southern Scotland (mainland only) and is not available overseas at present. Delivery lead time shown is typical for most areas, however this is approximate and cannot be guaranteed, so please check before ordering if delivery time is critical. There is no additional charge for delivery of extra brackets when ordered at the same time as your A1ShedBAR™, however a delivery charge will apply if ordered separately.
**Bespoke lengths (includes 3000mm bar) will take longer to make and galvanize, therefore please add at least 7-days onto your chosen delivery time.
***For the best user experience, the brackets should be positioned in the recommended position (Layout A), however you can turn the brackets around to gain another 35mm (B) or 70mm if required (C), although this will impact on how far you can open your door, and the size of padlock you need to use.
NOTE: All bars are supplied galvanized, without any branding or logo. The main image (top) shows a prototype bar with an etched company logo for photographic purposes only.